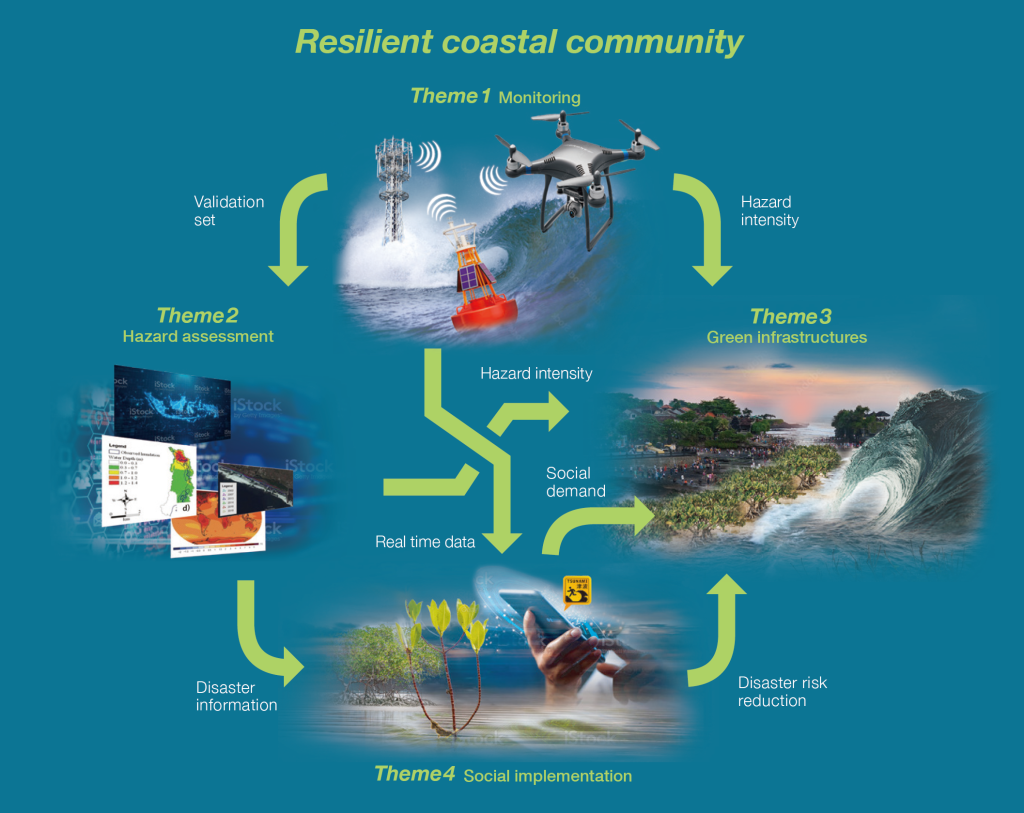 Background/自然災害の将来変化と防災対策の世界的背景
In recent years, the world has been experiencing frequent and unexpected natural disasters such as heavy rainfall, storm surges, storm waves due to climate change, and tsunamis associated with huge earthquakes. The 2019 Intergovernmental Panel on Climate Change (IPCC) Special Report on the Ocean and Cryosphere (SROCC) and the 2021 Sixth Assessment Report (AR6), in particular Sea-level rise projections under the high-end greenhouse gas emissions scenario (SSP585) have been revised upward to the upper side to 1.1 m at the end of the century, and future changes in waves and storm surges are reported to have serious impacts on coastal vulnerability. Under these circumstances, it is feared that high waves and storm surges and tsunamis will become a serious challenge in Southeast Asian and South Pacific countries.
Coastal areas are not only the economic base for industry, fisheries, and tourism, but also the foundation for housing, recreation, and other aspects of life, taking advantage of the flat land and rich natural environment. Therefore, it is an internationally important issue to resolve the trade-off between a comfortable society in normal times and a safe and secure society in emergencies against possible natural disasters in the future. Therefore, there is an urgent necessity to establish harmonic coastal defense technologies that aim at the best mix of assessing the intensity of coastal disasters such as storm waves, storm surges, sea-level rise, and tsunamis, reducing vulnerability by constructing defense systems, and maintaining and creating environmental resources in harmony with nature and with local characteristics.
---
近年、世界中で気候変動等に伴う豪雨、高潮、高波、巨大地震に伴う津波等、想定を超えた自然災害が頻繁に生じています。2019年気候変動に関する政府間パネル(IPCC)海洋・雪氷圏に関する特別報告書(SROCC)および2021年第6次評価報告書(AR6)では、特に温室効果ガス排出ハイエンドシナリオ(SSP585)での海面上昇予測が今世紀末で上位値で1.1mまで危険側に上方修正されたこと、および波浪や高潮の将来変化が沿岸部の脆弱性に深刻な影響を与えることが報告されています。そのような状況下において、高波・高潮や津波は東南アジア・南太平洋の国々における深刻な課題になることが懸念されています。
沿岸域は平地や豊かな自然環境を活かし、産業の集積、漁業や観光といった経済基盤となっていますだけでなく、住居、レジャーを含めた生活基盤にもなっています。そのため、将来起こりえる自然災害に対し、平時における快適な社会と非常時における安全安心な社会の実現というトレードオフの解決は、国際的にも重要な課題です。このことから、高波、高潮、海面上昇、津波などの沿岸災害強度評価、防御システム構築による脆弱性の軽減、そして自然との共生や地域の特色を活かした環境資源の維持・創出のベストミックスを目指した調和的な沿岸防御技術の確立が急務な課題です。
Current situation in Indonesia/インドネシアの沿岸防災に関する現状の課題
Indonesia is a coastal and maritime country consisting of 13,466 islands and has the world's second longest coastline of approximately 54,000 km. However, protection against natural disasters is insufficient, and in addition to long-term and widespread coastal erosion, recent climate change has increased the vulnerability of coastal areas due to frequent flooding and predicted sea level rise.
In this context, there is a strong need to preserve coastal areas in a way that balances disaster prevention, the environment, and the economy. One example is the measures taken against the earthquake and tsunami in Sulawesi that occurred in 2018. Here, the development of the backlands has been promoted in consideration of the balance between residents who do not want too high embankments and disaster prevention functions such as breakwaters, and it is expected that this kind of initiative will be deployed throughout Indonesia. Coastal erosion caused by high waves is also a major problem in the preservation of coastal areas. In particular, coastal erosion is severe in Sumatra and Bali, where 20% of the coastline is being eroded. In Bali, JICA's "Bali Coastal Conservation Project" is underway in two phases. In the evaluation of the project in Phase 1, the need for regular monitoring and adaptive management was identified as an issue. Furthermore, the decrease of mangrove forests due to logging, etc. has become more pronounced, leading to further degradation of the disaster mitigation function. Therefore, scientific support for monitoring, erosion mechanism elucidation, long-term forecasting, and erosion countermeasures is considered essential.
---
インドネシアは13,466の島から成り立ち、世界2位の約5万4千キロの長い海岸線を持つ海洋国です。しかし、自然災害からの防護は脆弱であり、かつ、長期的かつ広範囲な海岸浸食に加え、近年の気候変動による洪水の多発、海面上昇予測などにより、沿岸部の脆弱性が増しています。
このような中で、防災、環境、経済とのバランスのとれた沿岸地域の保全が強く求められています。その一例として、2018年に生じたスラウェシ島における地震津波に対する対策があげられます。ここでは高すぎる堤防を望まない住民と防波堤等の防災機能のバランスを考慮した背後地の整備が進められ、このような取り組みのインドネシア全域での展開が期待されています。また、沿岸域の保全では、高波による海岸侵食も大きな問題となっています。特に、スマトラ島、バリ島では海岸侵食が厳しく、海岸線の20%が侵食されつつあります。バリ島では、JICAによる有償資金協力「バリ海岸保全事業」が2フェーズに渡り進められています。フェーズ1の事業評価において、定期的なモニタリング実施や順応的管理の必要性が課題として示されました。さらに、伐採等によるマングローブ林の減少も顕著になっており、さらなる減災機能の低下を招いています。従って、モニタリング、侵食のメカニズム解明、長期予測、侵食対策等の科学的サポートが必須であるとされています。
Targets of project/本研究プロジェクトの概要および目標
In this project, we will develop a method to improve the defense function of coastal areas based on the latest scientific evidence such as monitoring, modeling, and green infrastructure, and to transfer the monitoring network and analysis technology using the latest technology to improve the defense function of coastal areas in harmony with disaster prevention, environment, and economy. The objective is to realize social implementation of creation in 5 to 10 years. As social implementation based on this scientific data, we will attempt to build a platform for consensus building, and these results will contribute to the realization of a "super-smart society," which is the fusion of cyber and physical space, as a fundamental technology in Japan's 5th Science and Technology Basic Plan.
In order to realize the objectives, this project aims to develop the following three research projects: 1) transfer of wave observation technology in coastal areas of Indonesia, development of monitoring technology for sandy beaches and mangrove forests; 2) construction of multi-hazard evaluation methods for waves, tsunamis and floods; 3) disaster mitigation functions by mangroves and sandy beaches against waves, tsunamis, and floods. 4) Establishment of environmental education and eco-tourism to promote maintenance and management of green infrastructure, systematization of evacuation planning and education for backlands areas, and consensus building methods based on these four issues. Build an integrated platform for coastal defense technologies.
The main sites are Bali, Ambon, and the east coast of Kalimantan.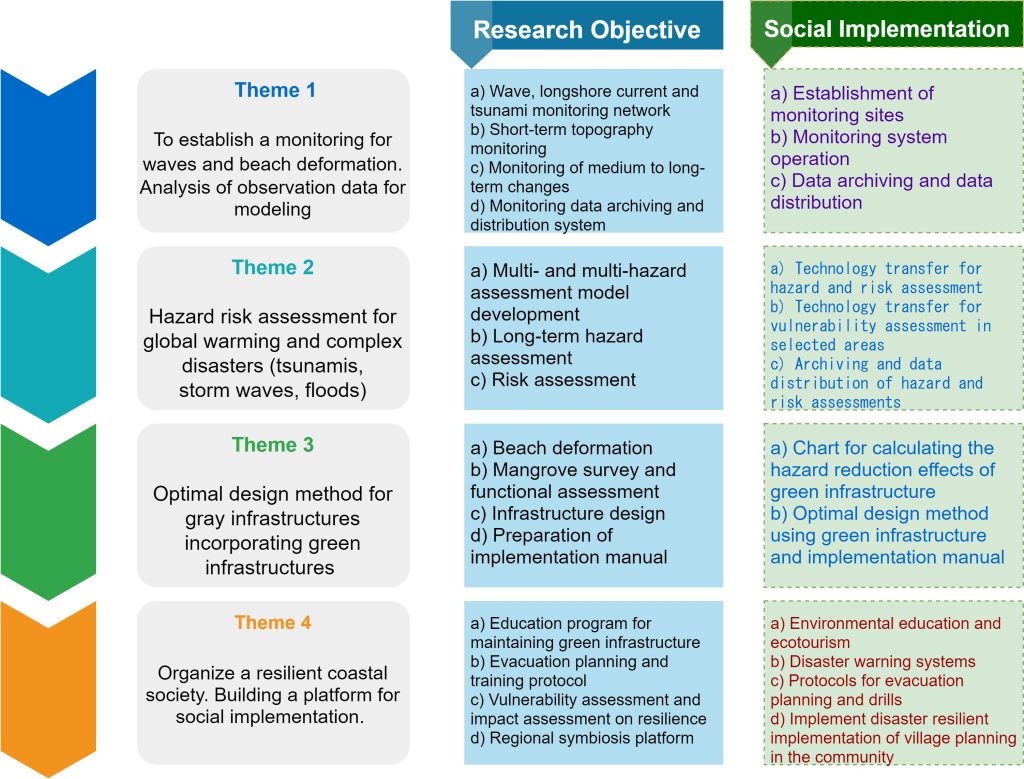 ---
本プロジェクトでは、最新のモニタリング・モデリング・グリーンインフラ等の科学的エビデンスに基づく沿岸地域の防御機能向上および社会実装手法の構築ならびに、最新技術を用いたモニタリング網の整備および解析技術の移転を行い、防災、環境、経済との調和のとれた沿岸地域の創造の社会実装を5〜10年後に実現することを目的とします。この科学データに基づく社会実装として、合意形成のためのプラットフォームの構築を試み、これらの成果は、我が国の第5期科学技術基本計画における、サイバー、フィジカル空間の融合となる「超スマート社会」の実現に向けた基盤技術として貢献します。
目的の実現に向けて、本プロジェクトでは、1)インドネシア沿岸部の波浪観測技術の移転、砂浜およびマングローブ林のモニタリング技術の開発、2)波浪、津波および洪水に対するマルチハザード評価手法の構築、3)波浪、津波、洪水に対するマングローブ・砂浜による減災機能の評価と人工構造物を組み合わせた最適な減災機能・経済価値の定量化、4)グリーンインフラの維持管理を進めるための環境教育・エコツーリズムの確立、背後地地域への避難計画および教育の体系化、それらを基にした合意形成手法を確立し、これら4つの課題を組み合わせて自然順応的沿岸防御技術に対する統合プラットフォームを構築します。
メインのサイトはバリ島,アンボン,カリマンタン島東海岸です.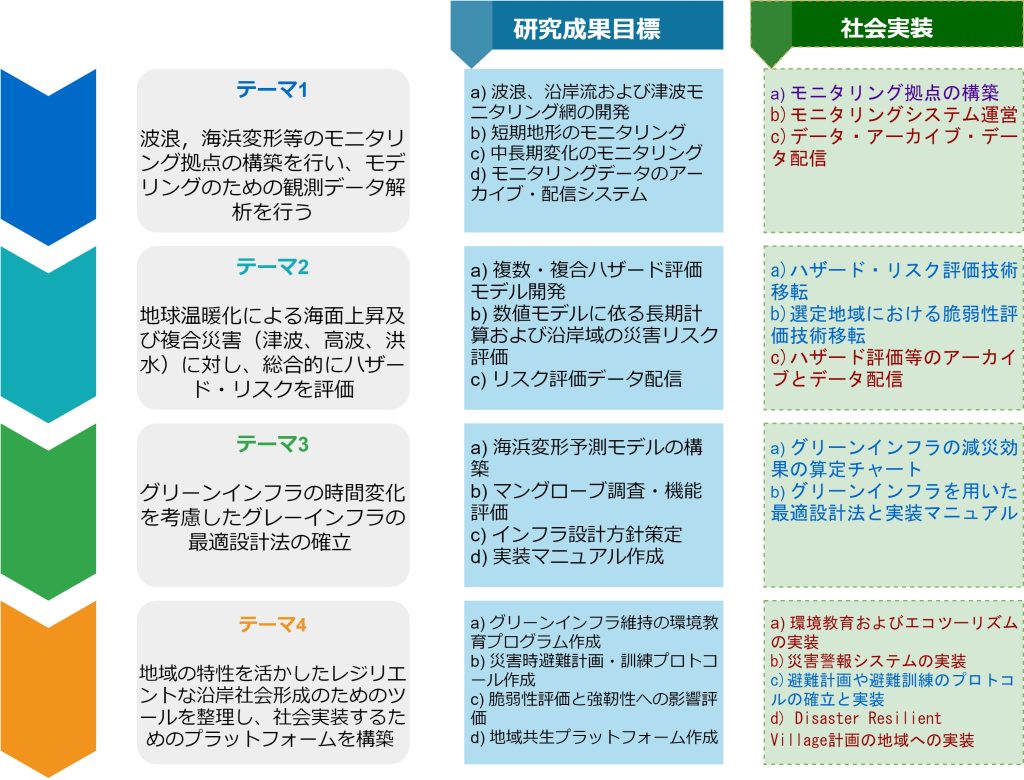 Four themes/4つのテーマ
Theme 1
Theme 2
Theme 3
Theme 4
Three sites